Ancient relics, viking graffiti & the Runivers
Siggi Odds on working with the past
Sigurður Oddson, better known as Siggi Odds, is a contemporary graphic designer whose work is playful and young, yet infused with old references and ornaments reminiscent of the past. In this interview we talk to him about his work with type and lettering and what inspires him as a graphic designer.
Originally from Reykjavik, Siggi Odds has spent much of his career between Iceland and New York. For the time being he resides in Hvanneyri, a small village west of Iceland, where he works remotely as a senior designer at Hugo & Marie.
With the modest population of around 300, life in Hvanneyri is no doubt a big contrast to his time in New York where he wanted to "become a small fish in a big pond, and see how that felt after swimming around in the small pond of Reykjavik."
That being said, living in the small village doesn't seem to be a limitation to Siggi Odds, quite the opposite: "Iceland is such a small country that there is something of an inborn optimism in us I think, a feeling that anything is possible and that anyone can kind of make what they want of themselves," he writes. "I think that optimism and self-confidence has helped a lot, and pushed me to try to move on to larger thinking and considering the world as my goal audience and not just this tiny island.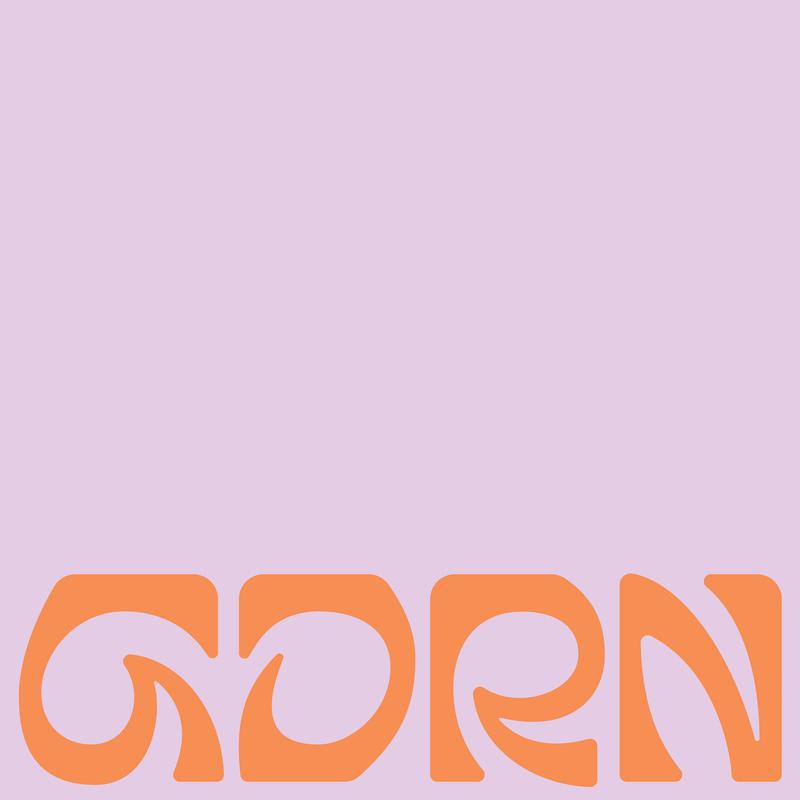 Multidisciplinary design
Impressively genre defying, Siggi Odds falls into the category of multidisciplinary design. He seemingly does it all - and he does it well, with awards and acknowledgements to show for it. From art direction to product design, logotypes to illustration, album covers to wine labels – even a career in music up until a few years ago.
"I've had a hard time letting go of doing too many different things; which I was trying to do simultaneously to being a designer up until about 5 years ago, when there just wasn't any time left," he tells us.
Among his varied work, it is his projects with type and lettering that first caught our eye. An interest that started while studying graphic design and visual communication at the Iceland University of the Arts: "I think it was one of the first things that I felt I could do somewhat well or originally while I was in school. The first type design class I took while in university was really eye opening and I really enjoyed it."
Although he has moved away from the more technical side of type design, much of his work focuses on lettering and custom display type. "I quickly learned however that I enjoyed exclusively the drawing part and not the technical part, and therefore never even attempted to become a proper type designer. But I enjoy lettering and doing custom display type, as well as collaborating with type designers for custom commissions," he explains.
Influences from the past
It is with somewhat of a childlike wonder Siggi Odds tells us where his fascination with ancient design comes from: "My backup plan if I hadn't gotten into art school was to study archeology. I have had a deep interest in everything ancient since I was a teenager, loving the mystery and magic of relics from thousands of years ago."
Siggi Odds' interest in design of the past is visible throughout his design practice. Although undeniably modern, his work is full of historic references. He has a talent for taking these relics of bygone eras, from different cultures and places, and restoring them in a way that fits well into the 21st century.
But a trip to Istanbul would turn his eyes back to Iceland, and the influences from his own heritage. "Runes are something that I hadn't really thought about in any real way until I came across an old inscription when travelling in Istanbul. In the Hagia Sophia, on the second floor balcony, there is a runic inscription from 1100 years ago when someone carved into the marble slab 'Halvdan war hier' (Halvdan was here). I really felt this when I saw it and that feeling percolated for a few years."
Futhark and working with Icelandic heritage
It started with a pet project turning well known Icelandic brand logos into a runic version, "imagining what that could have been like, if we never took up the Latin alphabet." His study of various runic alphabets would eventually lead to the design of the book "Runes: the Icelandic Book of Fuþark" (collaborative project).
"I approached it in a sort of modernist way. As I felt that the runic alphabet had totally been left behind in modern typography. I looked at cyrillic and greek which are included in most large type families and wanted to do the same for runes. So I designed the three alphabets elder, younger and Icelandic fuþark, using Univers as the reference, making Runivers (not commercially released or anything like that don't sue me)."
One of the big projects Siggi Odds has worked on is the visual identity for the National Museum of Iceland. Bold and modern while showcasing Iceland and Icelandic culture through time, Siggi Odds has managed to convey the visual language without making it "kitschy or touristy".
"The identity of the National Museum of Iceland came sort of naturally after this project, which they had seen, and thought was an interesting take on modernising Icelandic heritage. We approached that project with the aim to inspire the general public with Icelandic cultural heritage, and our solution to use typography came quite naturally, where we used runes, the Icelandic höfðaletur and fraktur script intertwined with a modern sans serif. Our general approach was to somewhat modernise these old influences, recontextualising them and making them accessible to a new audience."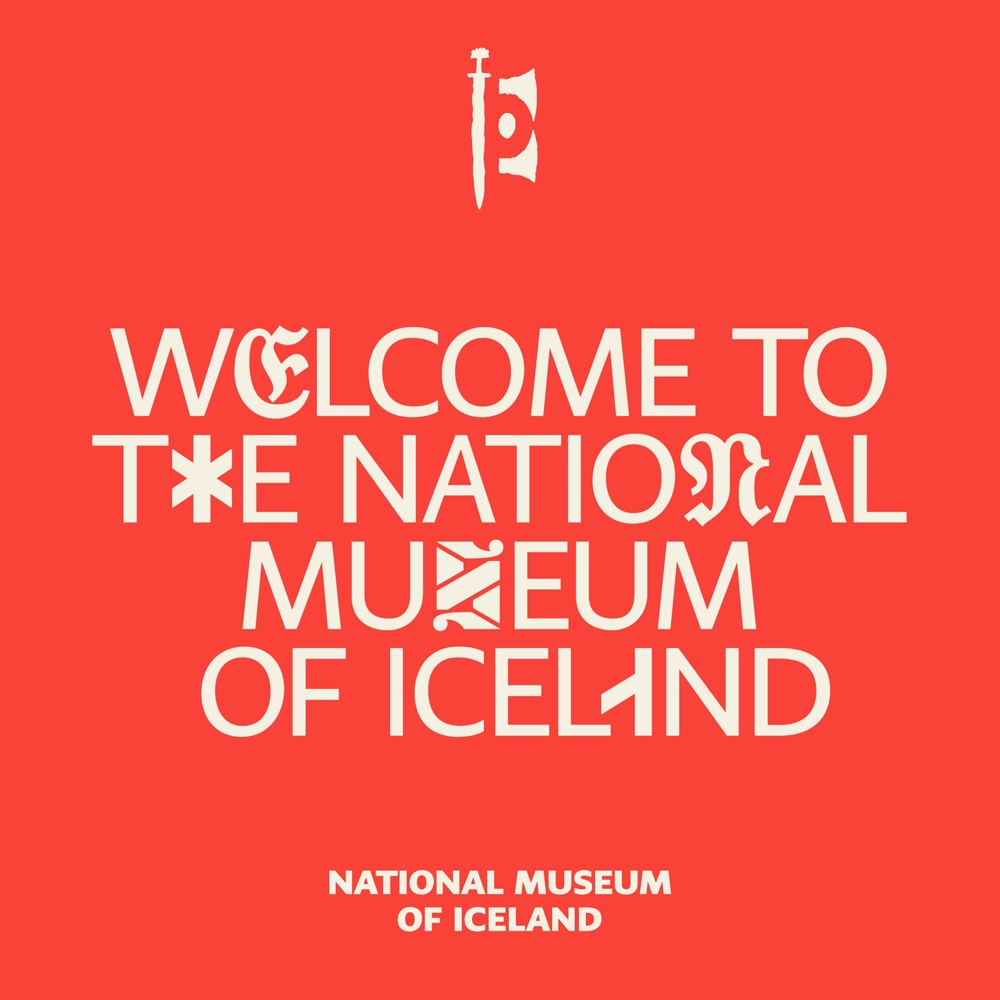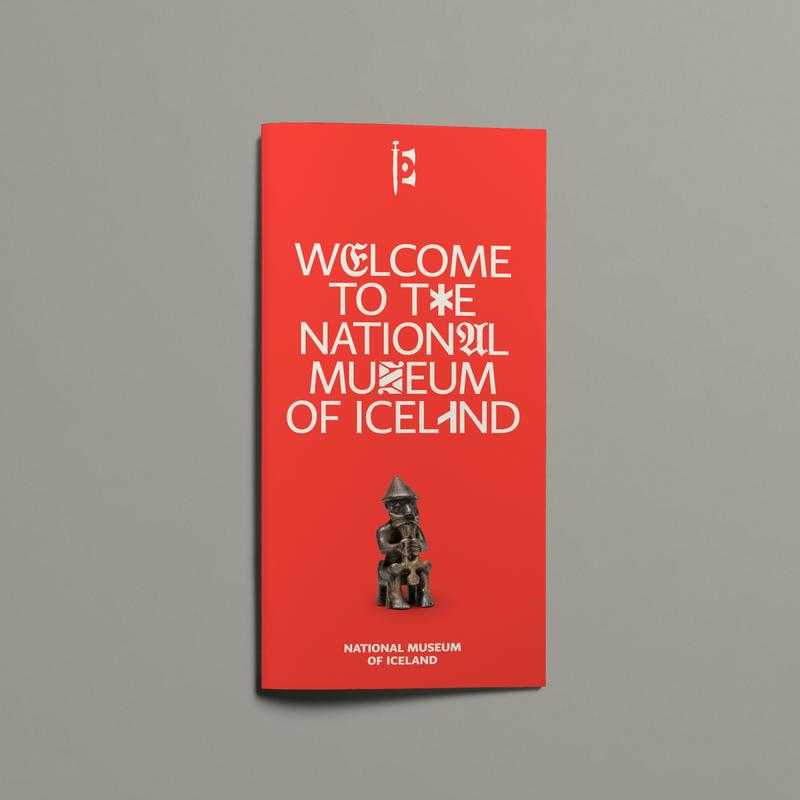 Nordic design and the future
Through his work, Odds fuses design from different cultures and time periods. Through this process he removes himself from common tropes associated with Nordic design. We see a lot of design being described as "Nordic", but what is Nordic design?
"I think there is a perceived one, an identity of calvinistic minimalism and simplicity, lots of white, humble materials etc, but I think this is kind of an outdated stereotype rooted in 20th century modernism. I think that today the world is much more connected and mixed together so there is in general less of a style between countries. If anything maybe there is an optimistic openness to new experimentation and progress, a desire for collaboration and discovery, and an ambition to make big things happen.")
A world more connected and a desire to collaborate and discover. One can say the way Siggi Odds work and his view on design connects. To develop something that has already been made, modernizing or recreating it in our current time. This is something that is clear in Siggi Odds' work and his respect for the material.
"The second is to maybe leave a little mark in the fabric of culture, just a small one. Adding my perspective and interpretation of the visual world to the canon of visual culture, so that someone else can take it from there and interpret further."