Assistive AI Through The Eyes of Designers
Marius Hansen Hogaas & Thon Ela Calip
AI is known for its ability to generate technological solutions, tracking and benefits for all data driven objects and tools. London-based, Stockholm-born designer William Jacobson is driven by pushing graphic elements and generative design to the extreme. Deep learning technological solutions are also applied in language learning applications such as Duolingo, where both humans and AI work together to create a high-quality learning experience. The fashion industry's meeting point with AI is crucial for critical design innovation and sustainable developments. Despite this, should we replace human labour and creativity, or should we use AI as an asset for further developments and enhancements?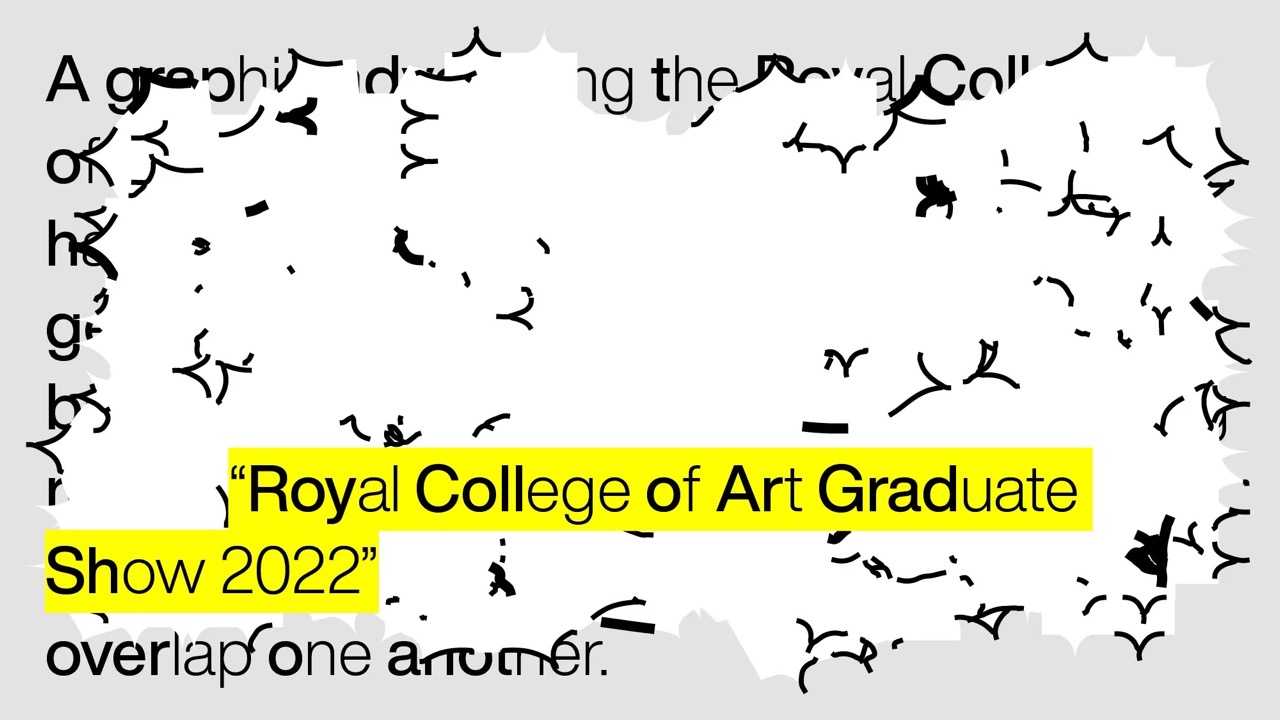 William Jacobson's bold and arbitrary style is reflected in his visual language, through an exploration of alternative systems. He works in a broad manner of practises—from kinetic type, to branding and by explorations through deep learning. The creative process of Jacobson is never the same as he applies various techniques in his projects. He likes to explore new ways of working and never commit to one way of doing so. In this way, William keeps his works ever changing and original.
The 31-year-old designer got his bachelor's degree in graphic design from the Gerrit Rietveld Academie in Amsterdam. He worked with graphic design for several years and late decided to move to London in order to get a master's degree at the Royal College of Art.
There is no such thing as a normal workday for Jacobson. He is currently juggling between two jobs and does some freelance work in addition to that. But he admits he enjoys the contrast between two very different jobs—one that does very classic and polished design and an the other that's more reactive and impulsive.
– Around two days a week I am working for the ArtReview magazine, setting text and layout, a very meticulous environment which I really enjoy. The rest of the week I work for a graphic design studio called Europa. We work mainly on identities, books, bespoke typefaces but also value the importance of graphic design in the public realm.
One of the things that lead Jacobson into graphic design is his love for drawing:
– I have always loved to draw, ever since I was just a kid. I think drawing is a vital tool when being a graphic designer. Sometimes graphic design and typography is just drawing, but with letters.
Jacobson calls his design process a bit 'weird'. He focuses on doing things in a very quick and careless manner, sometimes by trying odd softwares and techniques that he is not familiar with, to seek 'fortunate mistakes'. And when he finds them, he will spend a lot of time exploring them further. He looks up to people like Hansje van Halem, Zach Lieberman, and Henri Matisse, but tries most of the time to seek inspiration elsewhere.
– It is basically all about iterations and a curiosity towards always pushing it to the next step. And in the end of it all, it is just a matter of editorial work, select and reflect basically.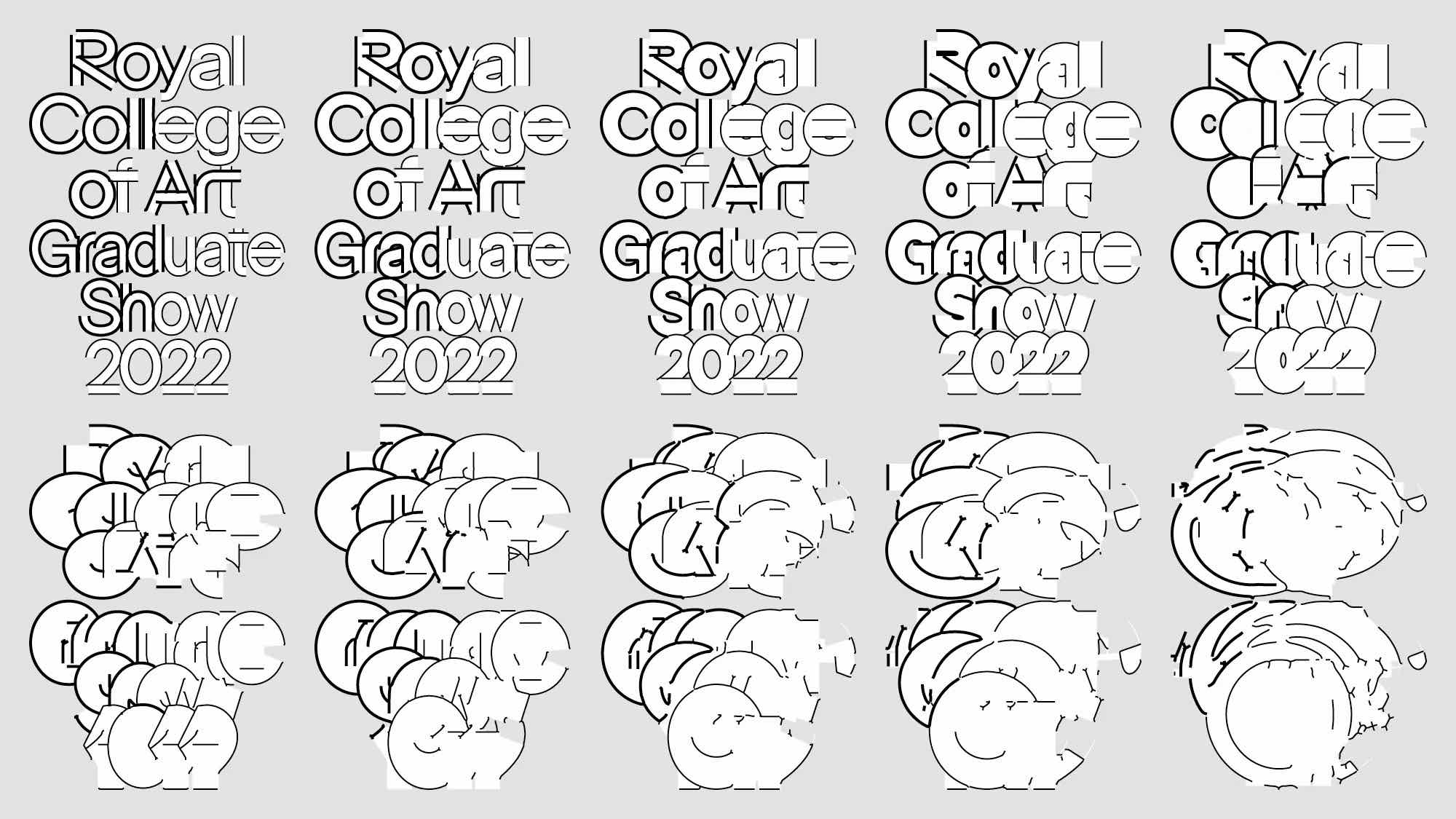 What is your relation to AI?
– To be honest, my relation to AI is not more than just interacting with conventional, everyday type of AI. I am talking about the sort of AI that recommends you songs on Spotify for example. I must admit, coding is not a strength of mine. I mostly seek different way of approaching my projects. One of them can be default automation effects in Adobe Illustrator or InDesign. I tend to utilise standard effects in different context, almost trying to break or manipulate the system.
How do you feel about AI more as an assistive tool for future progress rather than replacing human intelligence?
– Yeah sure, AI will be a great tool for future progress! I think it will come down to whoever use it. The possibilities are (and will be even more) endless, so it comes down to how one chooses to utilise it or manipulate it in an interesting and creative way
How do you think assistive AI will develop in the coming years?
– Again, I am not that super interested in AI, so I do not really dare to predict the future of it other than it will probably continue to improve and at an even more rapid speed than now. Only time will tell what that future will look like.
William's practice might seem to be quite complicated, however, most of the time his process is a result derived from a happy coincident (although he claims that he highly doubts he could ever recreate any of them).
– In my opinion there is no right or wrong tool when generating different types of design. I guess it comes down to the individual; what tool or process works best for you. Knowledge in an area is good, but also curiosity is vital and not being afraid of trying new tools or ideas.
Your Royal College of Art Graduate Show 2022 identity project shows a bold and boundary-pushing side of graphic design that takes inspiration from the digital era. Can you tell us more about the process around this project and how it came together?
– The project investigates borders between opposites. The ones that interested me the most were frictions such as Static vs Motion, Reflexive vs Reflective, Rational vs Irrational and Human vs Machine. The project is basically a visual and written dialogue between me and the machine. By feeding the machine with texts such as my dissertation and other works on the same topic, I could generate responses from the machine when asking it questions about typography. Its responses were based on the text it had been fed and taught. Most of its responses where quite weird but still intriguing. From that material, I pulled out words and quotes that symbolised the conversation and processed them in a similar way, a back-and-forth dialogue between me and the machine. Always pushing it further than what's comfortable. In this way, I am giving myself and the machine a voice, arguing opposites in general. The project aims to explore the thresholds and conventions between text and language through a vernacular typographic system.
Do you think you would arrive at these ideas without assistive technology?
– No, I do not think I would reach my result without the help of technology. Working digitally suits me very much because it allows me to create multiple ideas out of one. It allows a reflexive and intuitive process while still being able to backtrack. It allows me a timeline that is not straight. However, I think it is vital in design to not get limited to the digital realm. Good things come from simple tools such as paper and pen.
A New Fashion Incubator
The fashion industry is in rapid change where technology is crucial for further development. It is considered one of the world's leading industries, with an estimated yearly revenue of $1.94 trillion by 2027 (Statista, 2022). In the current situation, where slow fashion and ultra-fast fashion is on the rise at the same time, how can assistive AI be used to develop a more ethical and sustainable fashion industry that can get the better of trend-driven, unconscious brands? Is AI the future incubator for innovative fashion design and communication?
In 2021, more than 2.14 billion people were registered as shopping e-commerce. As a result of this, the transport and return rate has also increased, which has resulted in greater accessibility and customer satisfaction (Forbes, 2021). The threshold for returning a product is low, as many companies are offering free returns. Trail emissions according to logistics data are far higher than ten years ago, which puts the planet at an increased risk. A recent study from University of Gothenburg shows that most items which are returned to the warehouses mostly end up in big piles that are then labelled as 'uglies' as the warehouses do not know what to do with them. In the US, the number is as high as 5 billion pounds each year (The Verge, 2021).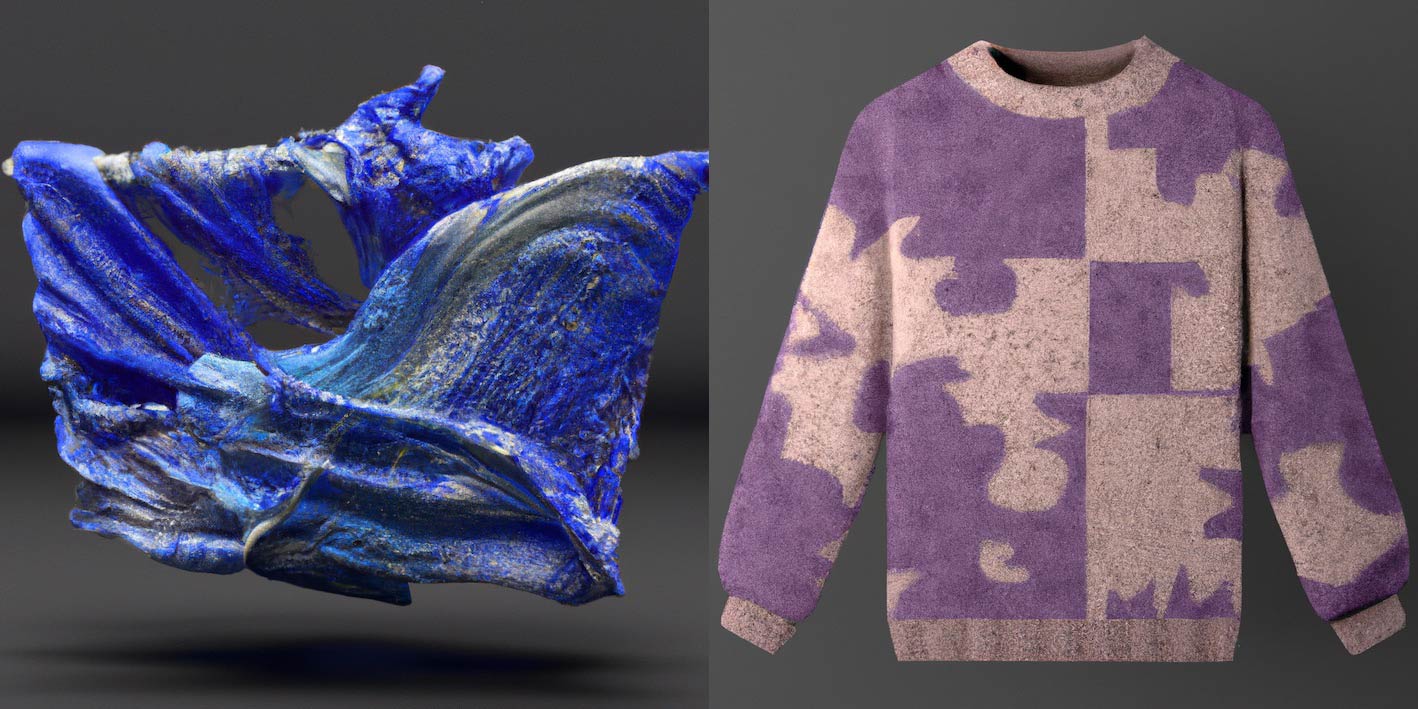 IBM, world's leading tech company, started a research project for fashion that 'aims to build a suite of APIs(Application Programming Interface) for the consumers, online retailers, buyers, merchandisers and designers, primarily leveraging deep learning, natural language processing and computer vision' in 2018. The fashion domain is complex, yet broad, which calls for an understanding of taxonomy (classification) curation, so IBM decided they wanted to build a set of cognitive assets open to the public on visual research, natural language research, recommendation, and trends forecasting as the primary areas of focus. (IBM, 2018)
In terms of design, fashion has always been a physical process that takes time and effort. The process is based on research, sketching, CAD drawing, fabric sampling, pattern making, and sewing of the actual garment—including supply chain management and sales. For human beings, the creative thinking builds mostly on experiences, interests, surroundings, and beyond.
An increasing number of companies are taking this into consideration and try to push AI into the industry. One of them is CALA, a fashion interface using assistive AI (DALL-E 2 API) to generate designs, supply chain management, web/e-commerce development, as well as financing. This platform is a collaborative platform, where the team can gather remotely, add comments to their design and create together online. (CALA, 2022)
Japanese-based Synflux is a deep learning-driven consultancy firm that consist of both designers and software-engineers with the aim of 'researching use of computer algorithms and biomaterials' through art and fashion. They explore how AI can be envisioned through traditional arts and crafts. This may include pattern data generated by AI that is based upon millions of images, which is then woven into fabric. (Wired, n/a)
So, why is AI the future incubator for fashion? The fashion industry is in a position where technology is vital for a more sustainable and innovative practice. By using AI in the way CALA, IBM, and Synflux do, it will help to speed up the process of change, it will make room for better communication with the team, it will reduce creative block, and potentially reduce returns from online shopping. Because that is what happens when you let the computer being the new incubator for new ideas.
Assistive AI in Lingustics
In an interconnected world, there is a major demand for proficiency in languages that opens up a world of opportunities. There are platforms out there, such as Duolingo, where you can learn a whole new language in a fun and engaging way, anywhere and at any time—from French to Navajo to Klingon. AI, in this case, can be used by learners as a tool, by extracting the classroom experience onto a platform that makes language learning more accessible. Duolingo is such a platform, one that offers free courses in many major languages with more than 500 million learner-users, and this technology has made language learning more accessible to everyone since it first launched in 2011. (Duolingo, 2022)
To make this happen, Duolingo utilises machine learning and natural language processing to create tools to enhance the workflow of the content developers by auditing and improving hundreds of lessons, challenges, and exercises. The AI system of Duolingo, Birdbrain, maps out each user and creates precise predictions about the user's learning to ensure a personalised language experience (World Intellectual Property, 2022). Ultimately, AI enables Duolingo to analyse the common mistakes and patterns users make, which in turn makes it possible to adapt lessons to each user's learning needs.
'We deliver a better learning experience using artificial intelligence (AI). Our lessons constantly adapt to how well the learner is doing on the app.'
– Luis von Ahn, CEO/Duolingo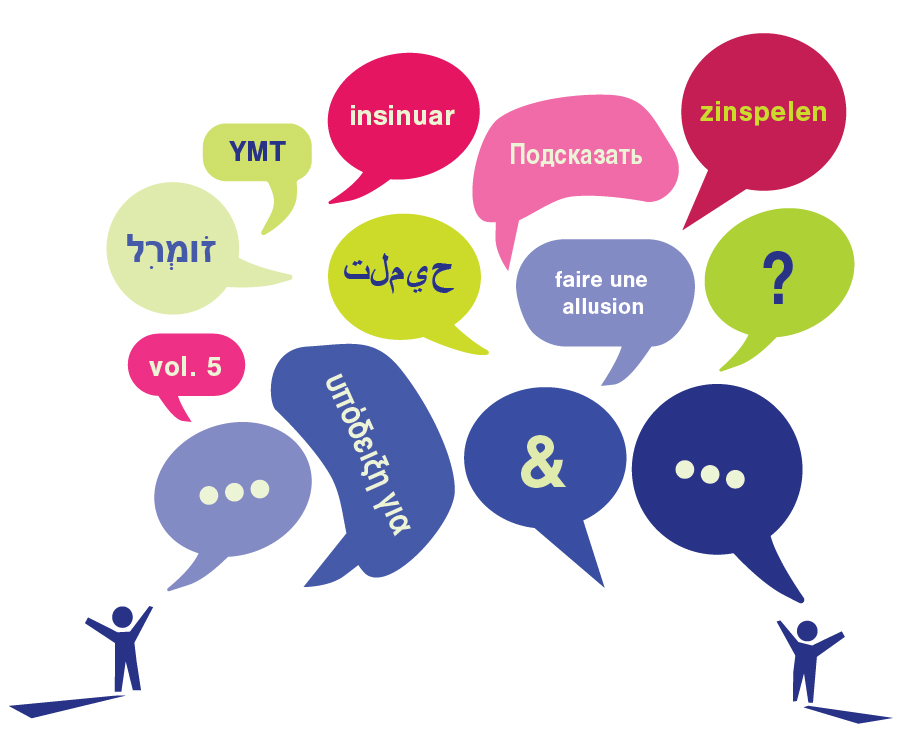 The user interacts with the content in a variety of ways as their language learning progresses and their language proficiency grows. Deep learning AI algorithms predict the likelihood of a user recalling a word in each context at any given time and can thus determine what that user needs to practice further. After analysing user data, the algorithms personalise the learning experience. (World Intellectual Property, 2022)
Duolingo also has AI-powered chatbots that help teach language through automated text-based conversations with app users to ensure an engaging experience. Not only do the bots assist users in improving their language skills by allowing them to practice conversing in a language, but they also become smarter as they are used. The company has also considered expanding into virtual reality technologies in order to provide a more immersive experience. (Marr, 2022)
As with any artificial intelligence, the more users who interact with it, the better it becomes. And the better the AI gets, the more it may resemble human language instructors. Duolingo's artificial intelligence assists millions of people around the world in learning new languages.
---
Refrences:
Calma, J. (2019) Free returns come with an environmental cost, The Verge. Available at: https://www.theverge.com/2019/12/26/21031855/free-returns-environmental-cost-holiday-onlineshopping-amazon (Accessed: 21 November 2022).
CALA (no date) CALA · Run your fashion brand, CALA. Available at: https://ca.la/ (Accessed: 23 November 2022).
Duolingo: learning a new language with an AI owl (no date) World Intellectual Property Organization. Available at: https://www.wipo.int/wipo_magazine/en/ip-at-work/2022/duolingo.html (Accessed: 23 November 2022).
Durocher, Y (2021) 'How AI And Mass Customization Could Change The Fashion Industry', Forbes Magazine [Preprint]. Available at: https://www.forbes.com/sites/forbesagencycouncil/2021/11/10/howai-and-mass-customization-could-change-the-fashion-industry/?sh=1d2d028550b9 (Accessed: 14 November 2022).
Fashion & Accessories (no date) Statista. Available at: https://www.statista.com/markets/423/topic/463/fashion-accessories/ (Accessed: 14 November 2022).
IBM (no date) IBM Research AI for Fashion API Reference, IBM. Available at: https://cognitivefashion.github.io/slate/?shell (Accessed: 23 November 2022).
Marr, B. (no date) The Amazing Ways Duolingo Is Using Artificial Intelligence To Deliver Free Language Learning, Bernard Marr & Co. Available at: https://bernardmarr.com/the-amazing-ways-duolingo-isusing-artificial-intelligence-to-deliver-free-language-learning/ (Accessed: 23 November 2022).
Monié, K. (no date) Your AI-generated clothes are trending, WIRED. Available at: https://wired.me/culture/design/your-ai-generated-clothes-are-trending/ (Accessed: 23 November 2022).
Pajak, B & Bicknell, K. (2022) Available at: https://blog.duolingo.com/how-duolingo-experts-work-with-ai/
Research (no date) Duolingo. Available at: https://research.duolingo.com/ (Accessed: 14 November 2022).